The silver lining of fuel recycle
INNOVATION | NNL | PEOPLE AND SKILLS | SOLVENT AND EFFLUENT TREATMENT | SUPPLY CHAIN AND ECONOMY | WORLD-CLASS FACILITIES
Through proactivity, pivoting and partnership, AFCP's Advanced Solvent and Effluent Treatment project went for silver but struck gold. Luke O'Brien, Laboratory Fellow at National Nuclear Laboratory and Technical Lead on the project, discusses the team's new technology for recycling used fuels more sustainably.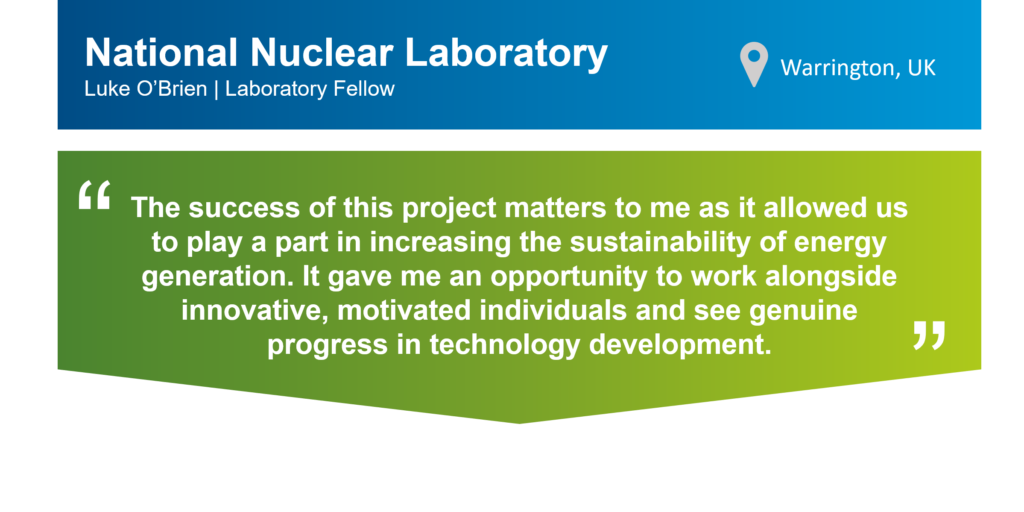 Challenge
Solving the future of fuel recycle
Solvent is used for the recycle of nuclear fuel, allowing for the re-use of plutonium and uranium to make new fuel without the need for mining more material. In fuel recycling, it's not just the fuel that can be re-used; the solvent can also be recycled several times, further extending the lifetime of nuclear materials.
Eventually, a proportion of the solvent requires disposal. On the Advanced Fuel Cycle Programme's (AFCP) Advanced Solvent and Effluent Treatment project, our team from National Nuclear Laboratory (NNL) and C-Tech Innovation has developed an innovative electrochemical process called ELENDES that safely oxidises the solvent at the end of its useable life. This involves converting a material from something hazardous and expensive to store into a safe form that is easily disposed.
The most efficient version of the process uses silver as a reagent to boost performance. Here, silver acts as a mediator, meaning that it converts electrical energy to electrochemical work. Using a mediator accelerates the process and makes it much more energy efficient – in fact, using silver gets us nearly 100% current efficiency.
Despite these benefits, we recognised that the process developed was not optimal and sustainable. The silver, which is dissolved into nitric acid, is expensive and ecotoxic. Hence, if we only used the silver once and then disposed of it, it wouldn't be sustainable from both cost and environmental perspectives.
Having considered these challenges in advance, we switched courses to find a more sustainable solution.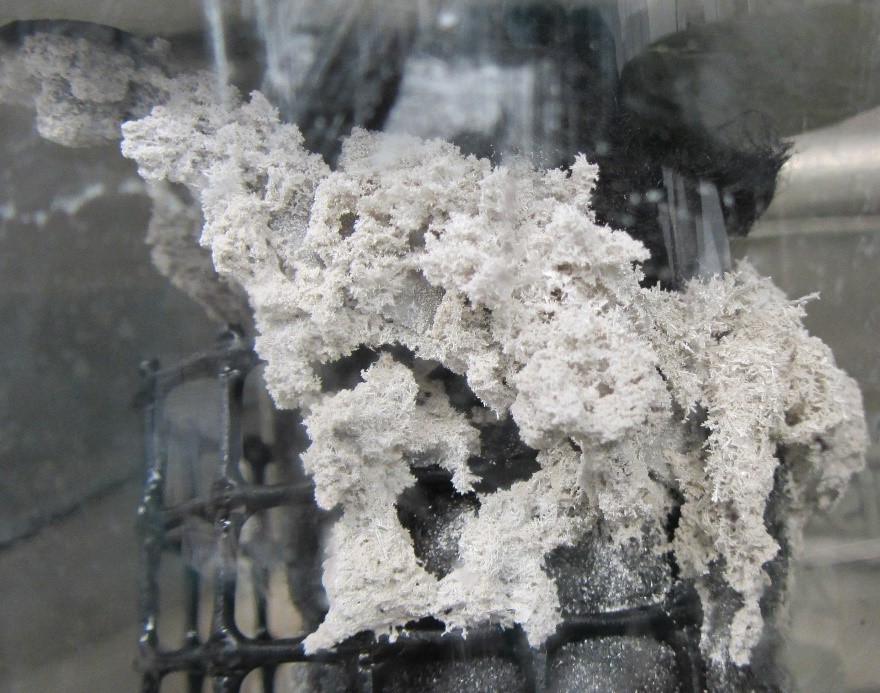 Solution
Pivoting focus with strategic partners
Before we started the new project, we asked ourselves a few key questions: Why would you throw the silver away? How can we make this process sustainable?
In collaboration with C-Tech Innovation, our team at NNL leveraged our wider experience of electrochemical processes to develop a way of recovering the silver for re-use within the ELENDES process.
We used an approach called electrodeposition to deposit the silver as a solid onto special electrodes. This enables us to remove silver from discharges and to recycle it back into the process. We can therefore continue to re-use the silver rather than disposing of it.
Electrodeposition has been an enabler for this already excellent process. Mediated electrochemical oxidation, such as that enabled through ELENDES, provides a very controllable, intrinsically safe (with low temperature and pressure) and efficient process. By varying the size and number of electrodes we use, we can easily size the process to fit the job at hand.
For example, we are starting with laboratory and pilot scale units sized to treat the solvents that come from fuel recycle activities. This means that the ELENDES process is easily scalable to suit NNL's facilities.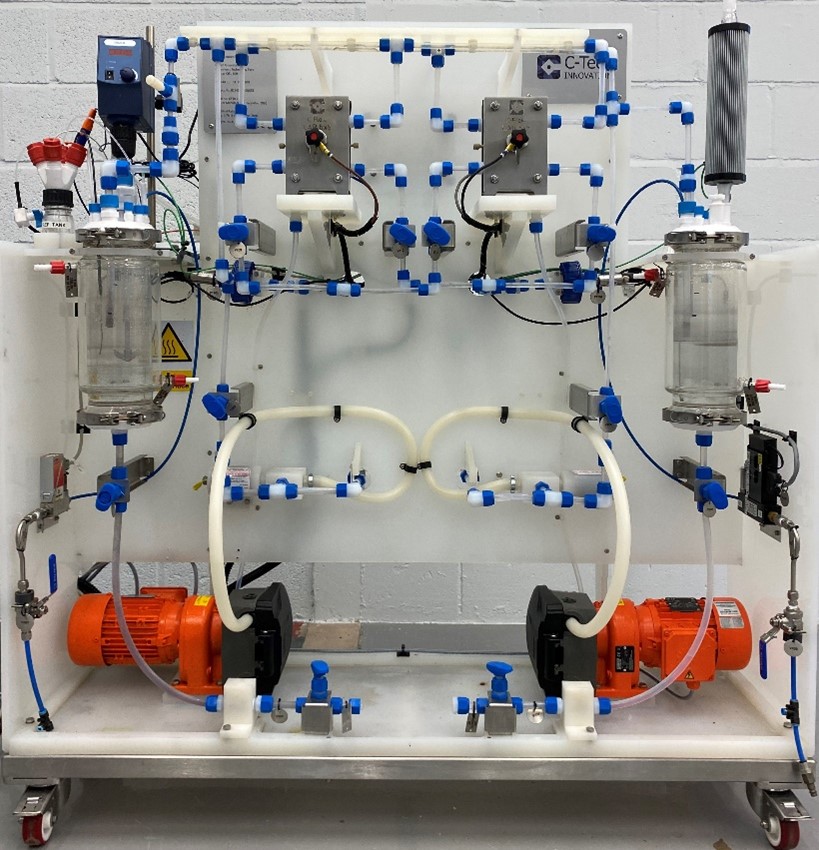 Impact
Solvent treatment gets silver service
AFCP provided us with the opportunity to turn our concept into reality in a short timeframe while engaging early career experts and using new capability at NNL's Preston Laboratory.
From a technical perspective, this project had made major strides in maturing a key AFCP technology. In terms of Technology Readiness Levels (TRLs), or the scale used to access the maturation of technology, we have managed to take our concept from the most basic level (TRL1) through to proof of concept at bench scale (TRL4).
As outlined in AFCP's recent roadmaps to Net Zero report – which includes our solvent destruction process in the advanced recycle of light water reactor (LWR) fuel roadmap – this rapid growth sets the UK up for success on the path to 2050.
Beyond these technical achievements, our project demonstrates how AFCP is supporting the people, infrastructure and networks needed to see this success through. This work exemplifies how AFCP researchers are striving for sustainable solutions to support Net Zero energy production. It has provided an opportunity to strengthen links with the supply chain – who can bring considerable experience from related non-nuclear industries – while developing skills and technology that can be applied in other sectors. One of our early career researchers, Ben Day, explains this well:
"Having only joined NNL in August 2020, my involvement in the AFCP-funded ELENDES project enabled me to gain valuable experience of working within a new and unfamiliar environment on a subject area of which I had no prior experience. I was able to gain a familiarity with the procedures to follow in order to get a laboratory project up-and-running and get hands-on experience of helping design and test a new process that will hopefully prove to be useful. In addition to the practical experience, the opportunity to expand my working network beyond those that work at the same site as me was very welcome and will hopefully prove to be fruitful in the future."

Ben Day, Research Technologist at NNL
The ability to dispose of solvent safely and sustainably once it has reached the end of its usable life is a critical enabler for nuclear fuel recycle. We have taken a step towards a sustainable solution through the work completed here.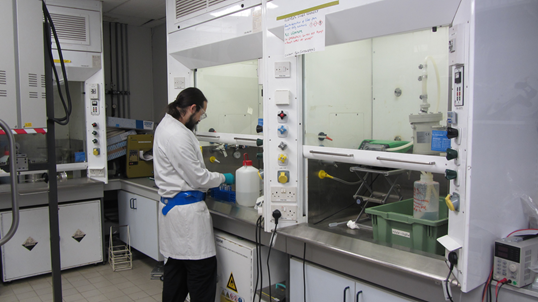 AFCP is part of the Department for Business, Energy and Industrial Strategy's (BEIS) £505m Energy Innovation Programme.