Connecting national laboratories to enable innovative energy research
A UNITED MISSION | ENGAGEMENT | NNL | NUCLEAR DATA | WORLD-CLASS FACILITIES
Collaborating across the UK's national laboratory network, the National Physical Laboratory (NPL) is leveraging key infrastructure to support AFCP. Patrick Regan, Professor of Nuclear Metrology and NPL Fellow, shares how working with the National Nuclear Laboratory (NNL) unites cross-UK scientific expertise.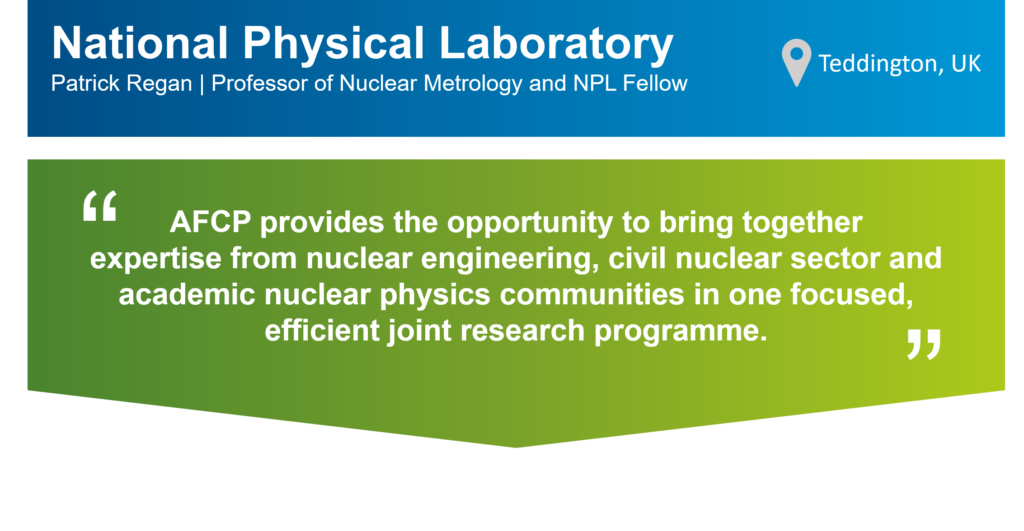 Challenge
Limited funding restricts innovative research
Funding – in particular for research-led PhD studentships and related 'blue skies' research into nuclear structure physics – can sometimes be limited and difficult to justify. Such physics research is often linked to nuclear decay and cross-section data provision.
Solution
Uniting experts from a range of scientific sectors
AFCP provides the opportunity to bring together expertise from nuclear engineering, civil nuclear sector and academic nuclear physics communities in one focused, efficient joint research programme.
As part of AFCP, the UK National Physical Laboratory (NPL) lends an array of expertise and infrastructure to underpin the programme's nuclear physics focus. Our contributions include neutron physics expertise, radiation detection and measurements, nuclear decay data, radionuclide traceability and radiation instrumentation development.
Impact
Opportunities for creative, joint solutions across national lab networks
AFCP provides collaborative work opportunities in terms of radioactive material characterisation and future modelling of medium- to long-term waste portfolios using decay data modelling. These collaborative efforts could be of general joint interest to NPL, the National Nuclear Laboratory (NNL) and the wider AFCP consortium. The programme also presents possibilities for collaborative work on measured neutron capture and neutron-induced fission cross-sections using NPL infrastructure, which could complement AFCP's scope of work.
In supporting clean, publicly supported civilian nuclear power from fission, we see AFCP as a programme underpinning the UK's long-term and base load needs. AFCP helps to provide public confidence in the safety and reliability of such (much needed!) long-term projects. Through AFCP, NPL and NNL provide the ultimate measurement traceability for radioactive materials in the UK. This joint capability is what ultimately underpins consumer confidence in the 'safety' aspects of nuclear power into the 21st century.
AFCP is part of the Department for Business, Energy and Industrial Strategy (BEIS) £505m Energy Innovation Programme.