WMS 2021: UK innovation on the global sustainability stage
At this year's Waste Management Symposia, AFCP promoted advanced fuel cycles within the international nuclear industry conversation. Through aligning their work with US national labs – setting the scene for future collaboration – AFCP teams plan to strengthen global sustainability efforts through 2022 and beyond.

The Advanced Fuel Cycle Programme (AFCP) virtually touched down in Phoenix, US for the Waste Management Symposia (WMS).
Through the programme's roundtable panel session on UK and US advanced fuel cycle alignment, AFCP teams introduced audiences to progress made under the programme while making valuable connections for future collaboration. Additionally, AFCP speakers took home the prize of "Best in Track #2 Poster Presentation" at the 2021 conference.
The contributions from AFCP teams created a prologue to what is to come at the 2022 WMS event, where the UK is set to be the conference's Featured Country.
Session success
In bringing together organisations across supply chain, Government and academia, WMS encourages collaboration to resolve global nuclear industry challenges within waste management, used fuel recycling and sustainability. The conference also has a strong focus on engaging emerging innovators and developing future leaders.
As such, WMS is well-aligned to AFCP's strategic emphasis on international engagement and skill development. For AFCP's roundtable session, members from the programme's Advanced Recycling and Sustainability projects presented on UK innovation for future fuel cycles. Together, these projects aim to strengthen skills and accelerate technologies to minimise the environmental footprint of nuclear energy.
Speakers from the National Nuclear Laboratory (NNL) led AFCP's roundtable session. The panel featured complementary presentations from the US Department of Energy (DOE), Idaho National Laboratory (INL), Pacific Northwest National Laboratory (PNNL) and Oak Ridge National Laboratory (ORNL).
For the first time, AFCP's roundtable introduced advanced fuel cycles to the WMS agenda. The session therefore attracted an interested crowd, including representatives from various US national labs. Rounding off the session, the Q&A panel lasted nearly 90 minutes – representing the real enthusiasm to progress this work on a global level.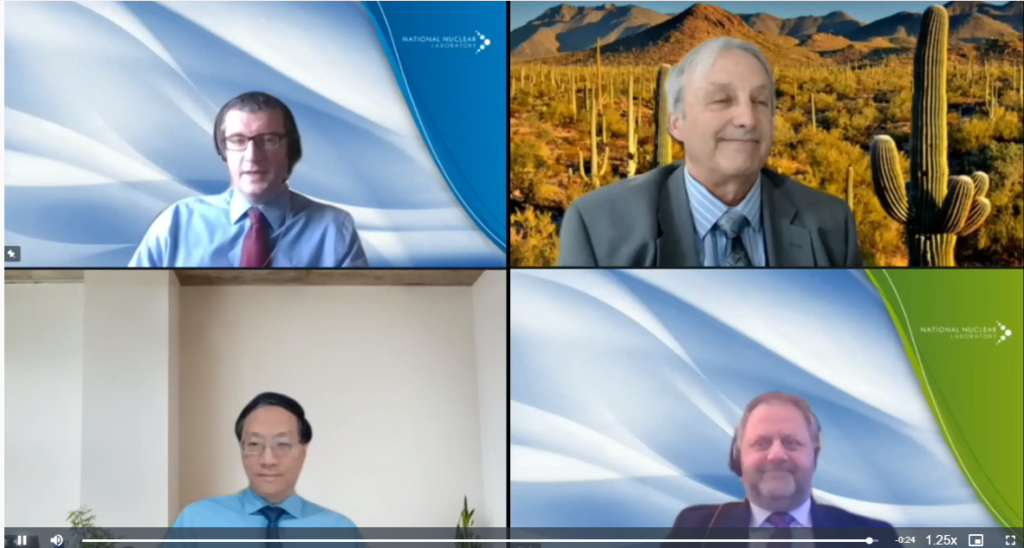 Virtual perks
Although WMS was virtual this year, the digital setup came with unexpected benefits for collaboration – even from afar.
The flexibility of online meeting enabled more people to join the conference. This year, eighteen individuals from NNL – majority of them also involved in AFCP – attended WMS. This is a significant increase from the lab's usual attendance.
University partners from Sheffield, Leeds and Manchester also represented AFCP at the event. Together with NNL teams, AFCP's university partners contributed posters to the conference's virtual showcase.
Additionally, the digital sessions unlocked a new opportunity for ongoing knowledge exchange. Through 1 July 2021, WMS audiences can revisit sessions online. Those who registered for the event can access recorded sessions – including AFCP's US/UK panel – by logging in to their WMS account.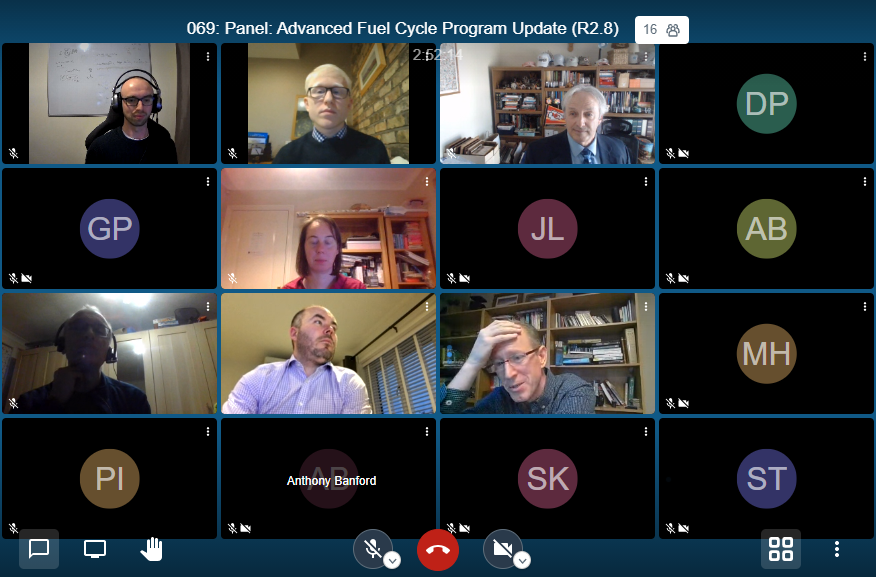 Roundtable review
Missed AFCP at the conference? A few of the programme's NNL speakers recap their presentations below, explaining how their work supports sustainability and why international collaboration underpins this success.
Josh Turner, Off-gas Capture:
It is an inescapable fact that human life creates by-products, whether that is the CO2 we exhale, the scrapped old car we used to drive or the mobile phone we no longer need. Recycling nuclear fuel is no different, creating its own set of by-products – including off-gases – with an impact on our planet. Understanding and developing the options available for use to manage those by-products is critical to achieve a sustainable future where our impact on the world is minimised.
My presentation was a bit of a technical journey through the Off-gas Capture project in AFCP. I covered our aims, what we have been up to since we began and where are we going focus our efforts in the future.
Chris Connolly, Aqueous Recycle:
My presentation covered Sim Plant, a software tool that NNL is developing. The tool comprises models of all the plants at an aqueous reprocessing site. Sim Plant can help optimise our choices of plant and calculate the effects on the content of effluents downstream from where a technology is implemented. This allows us to investigate options for reprocessing, enabling us to fully utilise the energy potential of uranium towards a closed nuclear fuel cycle.
As we move into using generation IV reactors and move towards Net Zero, advanced fuel cycles are required. This will have an effect on the volume and content of waste produced. Thus, it is important that advanced fuel cycles are part of the conversation on waste management.
Jay Dunsford, Solvent and Effluent Treatment:
Solvent extraction processes are central to used nuclear fuel recycling activities. During these processes, the solvent can degrade through radiolytic, chemical and thermal pathways which results in reduced solvent extraction performance. My presentation described current technologies employed for solvent management. I also discussed potential future solvent treatment technologies to dispose of used solvent.
The inclusion of advanced fuel cycles in the global waste management conversation is really important. This demonstrates that we're considering the recycling or treatment of waste arisings from future fuel cycles in parallel to the development of used fuel recycling processes, rather than being an afterthought.
Barbara Dunnett, Processing of Aqueous Waste:
My presentation discussed the design of two non-active simulants, representing the highly active liquid waste arising from future recycling of high burn-up nuclear fuels. These non-active simulants have been concentrated in a laboratory-scale experimental evaporator. I presented on how the liquor changes as it is concentrated – in particular, the solids which are precipitated. The work ensures the waste arising from advanced recycling of nuclear fuels is treated such that it is suitable for immobilisation and safe long-term disposal in underground repository.
As nuclear energy will contribute to Net Zero, it is important that advanced fuel cycles are considered now. WMS allows the international community to discuss the work, potentially leading to new collaborations and ensures that management of future waste uses world-leading expertise.
Mike Harrison, Pyro-processing and Processing of Pyro Waste:
My presentation explained the main wastes arising from the pyrochemical recycling of used nuclear fuel, namely the highly radioactive used salts. I discussed the options for their treatment to make safe for long-term storage and disposal, along with describing the experimental programmes that NNL and our university partners are carrying out.
A step change in the treatment of nuclear waste is essential to demonstrate the sustainability of future fuel cycles. The technology development required for advanced fuel cycles will be made significantly easier through international collaboration. A single-state approach will be expensive and take too long, especially in the conversation about waste management solutions that potentially have global impacts. Discussion around best practice and approaches such as those targeted through WMS offer significant synergies and are mutually beneficial.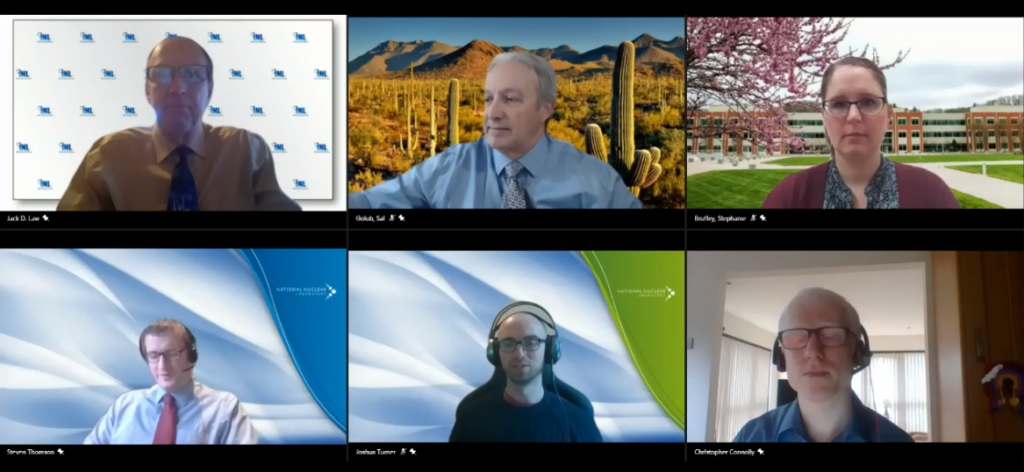 Prize-winning contributions
Alongside AFCP's panel session, programme members contributed to standalone poster sessions and papers at WMS. Of these, AFCP's Off-gas Capture project took home two titles: "Best in Track #2 Poster Presentation" at the 2021 conference as well as the American Nuclear Society's "Best Poster/Paper Award" for outstanding work against judgement criteria.
Their poster – titled Iodine Off-gas Capture and Immobilization Research in Support of UK Advanced Fuel Cycle Work – summarised four of the project's experimental workstreams that share the common theme of iodine management.
Because it is a key element of concern for ensuring that recycle operations are sustainable, iodine is an area of focus within AFCP's Off-gas Capture project. Successful abatement of iodine is ultimately an enabler of nuclear playing a significant role towards Net Zero. These workstreams are working together to ensure the optimisation of iodine's release, capture and ultimate disposal.
Bridging four different organisations, these Off-gas Capture workstreams truly demonstrate the value of collaboration for clean energy research. Congratulations to the full team involved in creating the poster, including the poster leads:
Josh Turner (NNL) – Off-gas Capture Technical Lead and lead author of the poster
Thomas Robshaw (University of Sheffield) – overall poster design, editing and section on "Adsorption from the aqueous phase and wasteform conversion"
Sarah Pepper (University of Leeds) – the section on "Removal of residual iodine from dissolver solutions"
Jabbar Gardy (University of Leeds) – the section on "Abatement of iodine using silver-based solid sorbents"
Sarah Kearney (University of Sheffield) – contribution to "Adsorption from the aqueous phase and wasteform conversion"
The team also extends appreciation to their co-authors for providing technical guidance. Co-authors include Ewan Maddrell (NNL), Chris Maher (NNL), Michael Carrot (NNL), Brant Walkley (University of Sheffield), Clint Sharrad (University of Manchester), Mark Ogden (University of Sheffield), Bruce Hanson (University of Leeds) and Robin Taylor (NNL).
AFCP's winning poster and paper were selected based on its demonstration of knowledge, understanding and a foundation for future waste management endeavours. The presentation, along with the other track winners, will be eligible to win the "Best of 2021 Conference Poster Presentation" award during WMS 2022 next year.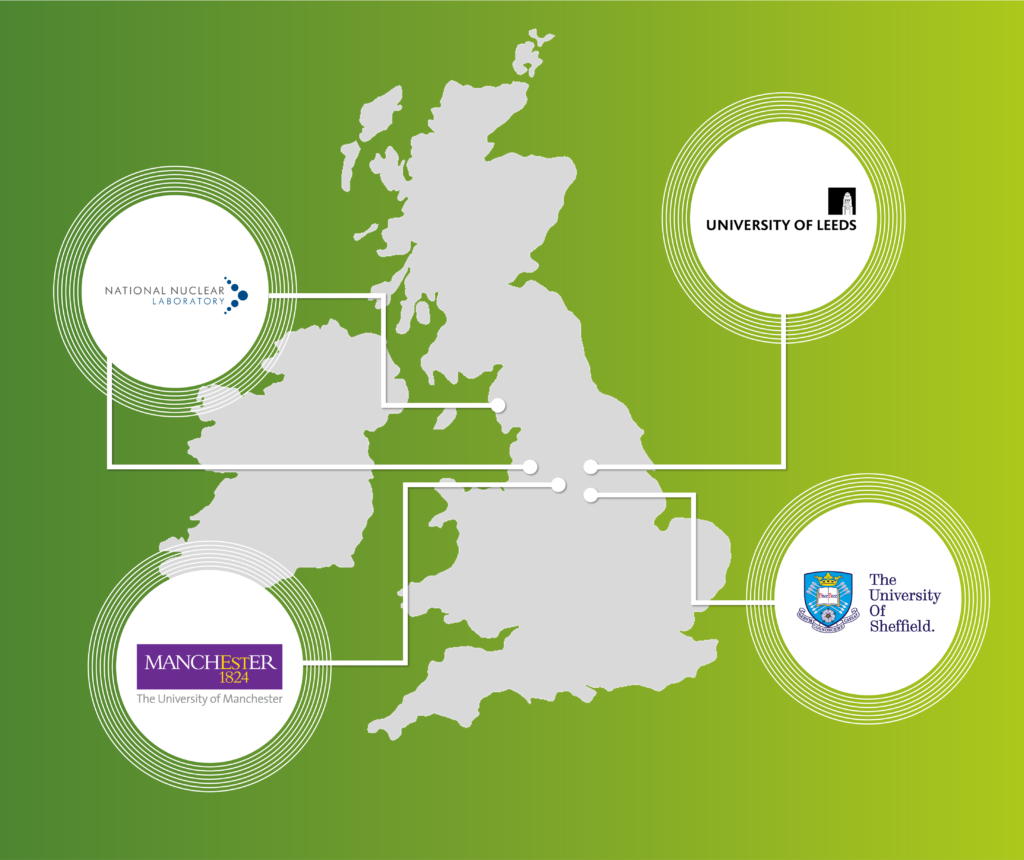 Looking ahead to 2022
AFCP and NNL look forward to continuing the advanced fuel cycle conversation at next year's conference. The 2022 WMS agenda is set to showcase the UK as its Featured Country, providing the UK with an opportunity to showcase the progress being made across the nuclear industry, encompassing all aspects, including decommissioning, waste processing and of course advanced fuel cycle activities. This will also provide opportunity to draw further connections and enhance collaboration between different countries.
Commenting on the 2021 event, Steve Thomson – Capability Leader for the Waste Behaviour and Characterisation area (within Waste Management and Decommissioning) at NNL and a Co-chair for Track 2 (HA Waste) at WMS – said:
"The WMS conference has, within a short space of time, completely overhauled its operational model to make sure that this year's conference could take place while still maintaining its focus on international collaboration and training the leaders of the future. This took considerable effort from all those involved, but we were pleased with the end result and I am proud of the part that the UK/US AFCP Panel Session played in achieving this. The decision was taken early to postpone the UK Featured Country plans, initially in place for 2021. What I am looking forward to most is getting back to Phoenix in 2022, with UK as Featured Country, to meet once again with colleagues and friends with a new additional focus to build upon the success of the UK/US AFCP virtual Panel that took place this year."
Anthony Banford – Chief Technologist, NNL and the UK representative on the Waste Management Symposia International Programme Advisory Committee (IPAC) – reflected:
"The AFCP roundtable was a great success, bringing together leading scientists from both US and UK national labs to disseminate information on their leading programmes. The roundtable was an important step towards building future collaborations and exciting future developments in this area, based on the great science bases of the UK and US. I believe that international collaboration is a key factor in the successful development of future sustainable fuel cycles, and WMS provides a brilliant platform to celebrate the value of global technical teamwork."
On his team taking home the title of "Best in Track #2 Poster Presentation" for 2021, Josh Turner – AFCP's Off-gas Capture Technical Lead – stated:
"I was very pleased to see that the collaboration and hard effort displayed by Tom Robshaw, Jabbar Gardy, Sarah Pepper and Sarah Kearney has been recognised by the award of the poster prize. This poster is a great example of how working together can lead to high quality work. Fingers crossed at WM2022, when the overall poster prize winner of WM2021 will be decided! I want to pass on my sincerest thanks to everyone involved."