Connect with AFCP at Waste Management Symposia 2021
Discover developments in UK advanced fuel cycle innovation – with a spotlight on AFCP – at this year's virtual Waste Management Symposia. Registration is still open for this internationally important event, which features an advanced fuel cycle roundtable with AFCP and US colleagues to showcase our cutting-edge work for a sustainable future.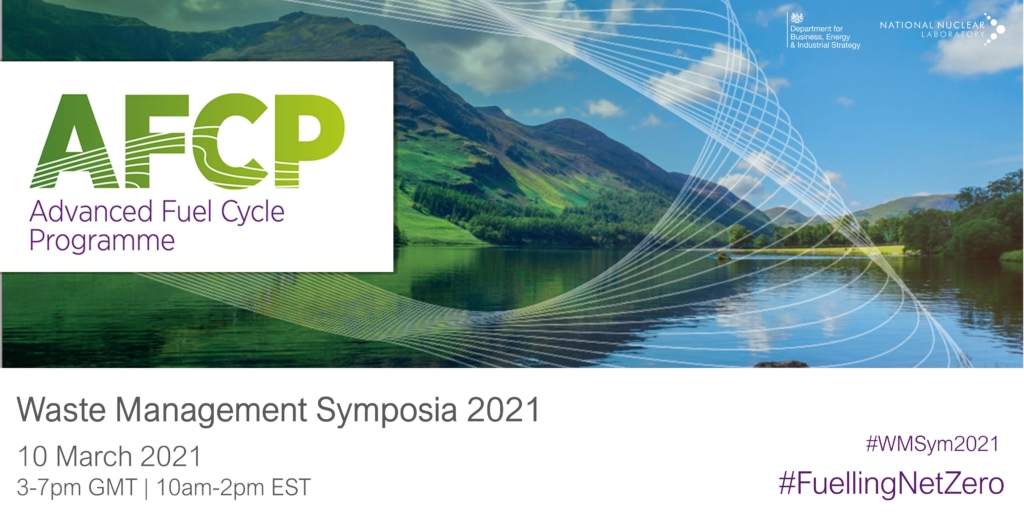 On 10 March, the Advanced Fuel Cycle Programme (AFCP) will lead a roundtable session at the 2021 Waste Management Symposia (WMS). Registration is still open for attendees to join and meet with AFCP's advanced recycling and sustainability teams.
WMS is the primary global event for industry, academia and Government to come together and discuss challenges and advances in nuclear waste management. Ordinarily hosted in Phoenix, US, the conference will be held virtually this year. Whether in-person or online, WMS provides a platform to network, share updates and plan a route forward as the role of nuclear becomes increasingly important worldwide.
Unique to this year's WMS agenda, AFCP's session will review advanced fuel cycle developments under an international lens. This will be a key contribution to the conference, showcasing the UK's renewed vigour and progress within advanced nuclear technologies for a more sustainable future.
Join the AFCP roundtable
AFCP's session will combine talks from across the nuclear fuel cycle. Spanning AFCP's advanced recycling and sustainability themes, speakers will review progress and illustrate the environmental and economic impacts of their work. The roundtable aims to showcase UK leadership and ignite lasting connections to support global sustainability and clean energy ambitions.
Speakers from the National Nuclear Laboratory (NNL) and academia will represent several of AFCP's technical projects – solvent and effluent treatment, pyrochemical processing, pyrochemical waste, off-gas capture and aqueous waste treatment – to give an holistic view of what integrated fuel cycle innovation can achieve on the path to Net Zero.

The roundtable also matches speakers in the US with those in the UK, highlighting complementary work between countries. Aligned with AFCP topics, speakers from the Department of Energy (DOE), Idaho National Laboratory (INL), Oak Ridge National Laboratory (ORNL) and Pacific Northwest National Laboratory (PNNL) will share US updates in advanced fuel cycles. AFCP is already proudly connecting US and UK national labs across its international partner network, and through WMS hopes to further strengthen ties between these scientific superpowers.
Unlike other WMS sessions, which tend to deep dive into one topic, AFCP's session is unique in both topic and style. In showcasing multiple areas of advanced fuel cycle innovation – and linking these developments between leading nuclear nations – the session aims to demonstrate the value of taking a system-wide approach to sustainable fuel cycles.

Engagement with international impact
Having a profile at WMS gives the UK – and AFCP in particular – the opportunity to learn from past experiences and plan for a better future. The event encourages collaboration to help nations streamline their efforts and minimise costs to individual countries.
The conference is a valuable opportunity for the US and UK to further collaborate. With work underway across advanced fuel cycles, both nations' approaches to nuclear clean-up and future technologies are well-aligned. Maximising collaboration is mutually beneficial to ensure that the deployment of these technologies is as efficient and cost-effective as possible.
The UK is making significant progress in integrating advanced nuclear technologies into its clean energy mix, and through AFCP the nation is taking action to make waste management as affordable, efficient and environmentally conscious as possible for generations to come. The programme looks forward to showcasing these developments – and connecting with new collaborators – on the virtual WMS stage.
Catch AFCP at the conference
WMS attendees can also see AFCP members at standalone talks throughout the week. These further diversify the programme's topic contribution while raising opportunities to connect with others at the conference.
Nearly twenty people from NNL – the majority of them involved with AFCP – will be virtually attending the conference. Academic partners from the University of Sheffield, University of Leeds and University of Manchester are also due to attend. Given the remote nature of the conference this year, NNL is excited to increase its usual attendance and provide valuable networking opportunities for AFCP teams.
AFCP is a brand-new, high-profile programme representing the essence of what NNL is good at and has captured the imagination of many of our scientists and engineers. A key aspect of AFCP is collaboration and developing sustainable skills – both in NNL and in the supply chain – which WMS plays a key role in supporting.

Steve Thomson, Capability Leader for the Waste Behaviour and Characterisation area (within Waste Management and Decommissioning) at NNL and a Co-chair for Track 2 (HA Waste) at WMS
NNL is a long-time contributor to WMS, which is recognised by those who organise and attend the conference. By showcasing AFCP and NNL in this way, we hope to increase opportunities for collaboration. We look forward to continuing to use the WMS Conference as a vehicle for regular updates on collaboration activities, which will complement other the UK's valuable international engagement in this area.

Anthony Banford, Waste Management and Decommissioning Chief Technologist at NNL and UK Representative on the WMS International Programme Advisory Committee
Register today
Join AFCP for the Advanced Fuel Cycle Update roundtable on Wednesday, 10 March. The session starts at 10am EST (3pm GMT) and is scheduled to run for just under 4 hours.
WMS is accepting registrations up until the event. For more information about the conference and to register to attend, visit the Waste Management Symposia website.
AFCP is part of the Department for Business, Energy and Industrial Strategy's (BEIS) £505m Energy Innovation Programme.