AFCP community unites for ambitious digital event
Last week, nearly 200 people dialled in to share updates and ambitions on the Advanced Fuel Cycle Programme. Missed the event or ready to revisit its insights? Read a recap and learn how to access recordings here.
Integration. Innovation. Inclusion.
These were the standout themes of the Advanced Fuel Cycle Programme's (AFCP) most recent virtual Quarterly Technical Meeting (QTM).
Over the two-day event, 197 people dialled in to hear from over 50 speakers across the programme. The QTM involved AFCP members and stakeholders from the National Nuclear Laboratory (NNL), the Department for Business, Energy and Industrial Strategy (BEIS) and AFCP's academic, industrial and regulatory network.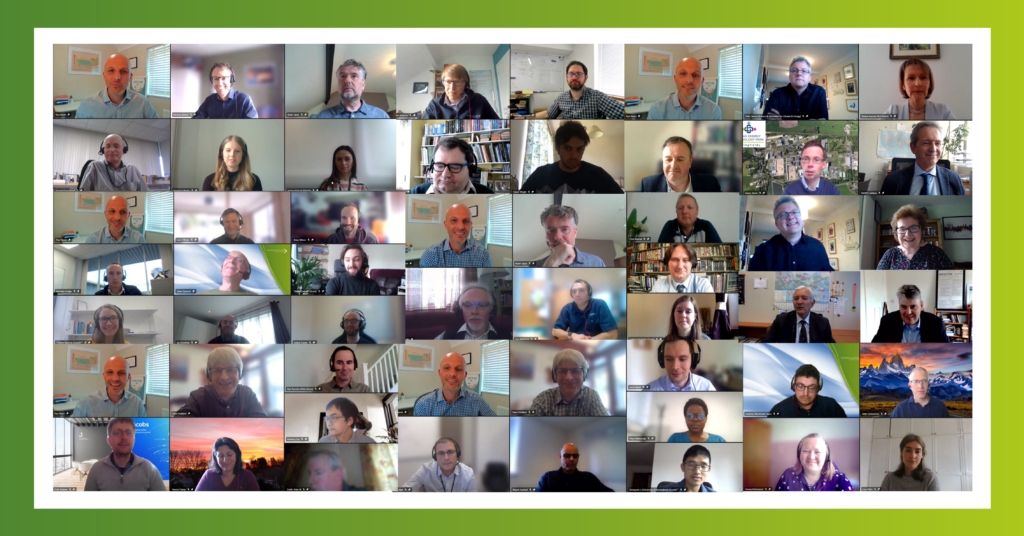 Teamwork-enabled technical work
Marking AFCP's fourth virtual QTM, April's event was the most ambitious yet. With a jam-packed agenda of technical highlights, behind-the-scenes lab footage, educational animations, keynote presentations and inspiring discussion panels, the QTM united and showcased the whole of AFCP.
Each of AFCP's technical projects – spanning advanced fuels through to advanced recycling and sustainability – reviewed their recent progress and impact on the UK's Net Zero agenda. NNL Technical Leads introduced each project, followed by deep dives into key highlights from their teams.
This technical agenda showed the sheer scale of AFCP. With over 40 presentations on technical progress alone, the QTM illustrated the depth and breadth of meaningful work across the programme while centring the drive of those delivering it.
Across these sessions, the idea of integrated innovation was clear. With teamwork at the heart of AFCP, the programme enables a unique unity between the front and back ends of the fuel cycle. QTM discussion emphasised that this aligned approach is essential for not only achieving Net Zero, but also maintaining a sustainable clean energy landscape beyond 2050.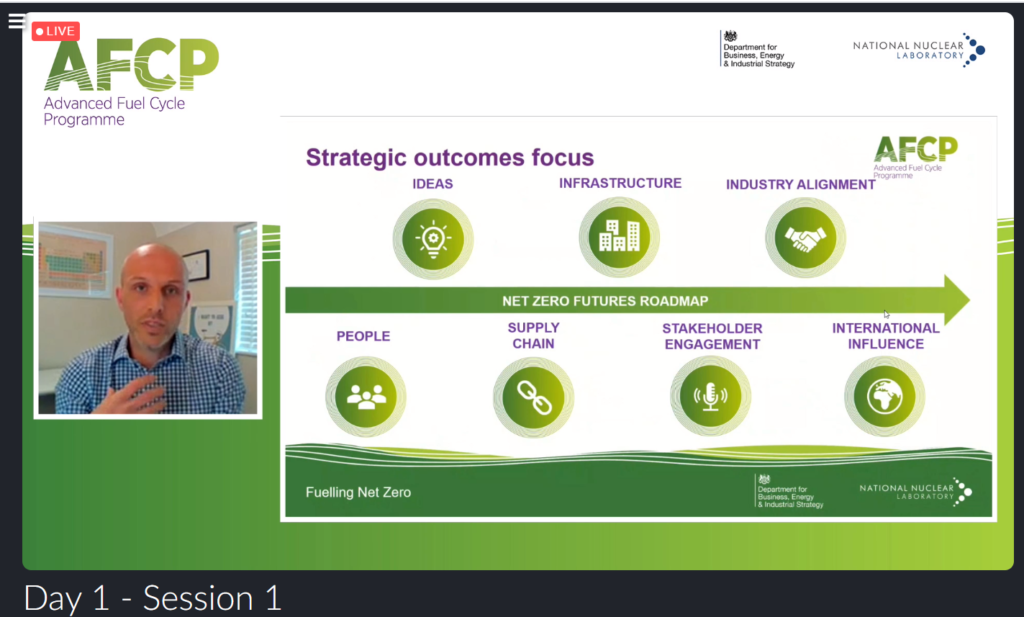 A day in the life on AFCP
Complementing the technical talks, AFCP teams premiered a series of short films at the QTM.
Among these contributions were several behind-the-scenes walkthroughs from NNL and AFCP academic partners. From showing the installation of a new flash sintering furnace at the University of Manchester to seeing salt clean-up experimentation at NNL, the footage showcased several of AFCP's new clean energy capabilities enabled through BEIS investment.
Additionally, several walkthrough videos from the University of Sheffield and University of Leeds showed the impressive UK infrastructure supporting AFCP. Meanwhile, modelling simulations from University of College London and Jacobs demonstrated the impact of digital innovation for understanding future reactors and minimising the environmental footprint of advanced nuclear technologies.
With a more conceptual approach, two AFCP projects premiered creative animations to explain their work to new audiences. Unveiling the result of AFCP's recent CINCH competition, the Pyro-processing team created an educational film for secondary students. The Nuclear Data team premiered an analogy-driven animation to explain the significance of the topic for the nuclear sector and beyond.
Stay tuned to see these films on AFCP's website and social media channels.
Exclusive industry insights
Alongside AFCP-centred updates, the QTM featured several keynote speakers and panellists who shared their insights on our evolving clean energy landscape. What did they have to say? Read some highlights below.
"In order to achieve Net Zero, it has to be incorporated into everything we do." – Professor Paul Monks (BEIS)
Professor Paul Monks, Chief Scientific Advisor at BEIS, joined the QTM for the event's first keynote session. Explaining the idea of "sustainable Net Zero" – a circular economy that is resilient and future-thinking – he emphasised the need for new technologies alongside new behaviours.
With the UK's "renaissance in nuclear ambition" gearing up for Net Zero, Professor Monks shared that COP26 may help the sector think about how to achieve that vision practically. A range of ongoing innovation – everything from full-blown modularisation and export through to that which is low-tech and applicable in different economic setups – is essential for Net Zero and sustainable development.
Thinking ahead, Professor Monks stated: "The vision is to be inclusive but ambitious with these goals."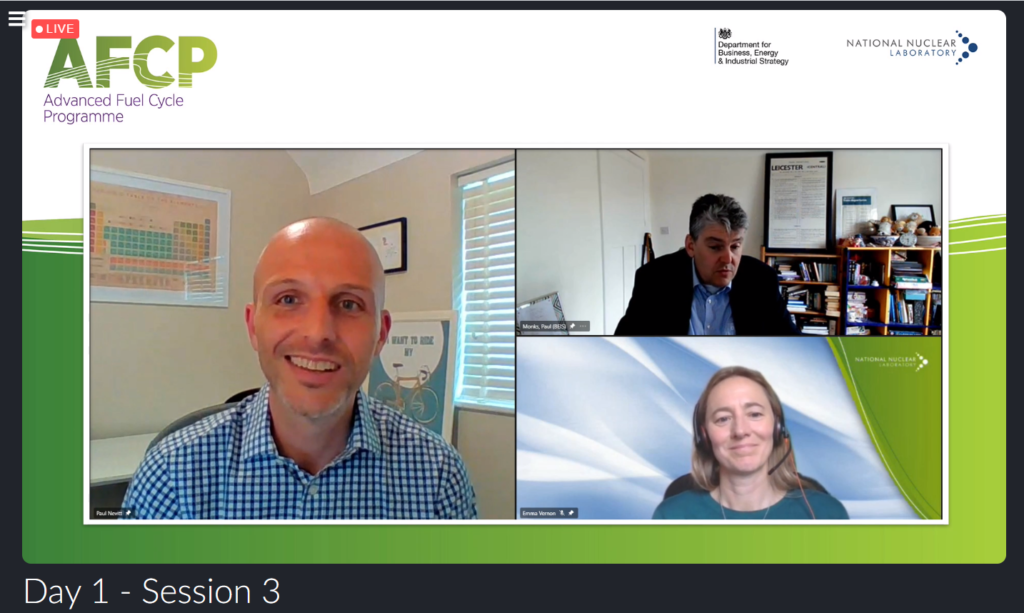 "We have an urgent problem in front of us. This is tomorrow." – Sama Bilbao y Leon (WNA)
In a sustainability-centred keynote presentation, Sama Bilbao y Leon – Director General of the World Nuclear Association (WNA) – reviewed the potential of nuclear to deliver meaningful global impact. She stated that prioritising development alongside decarbonisation can help to provide affordable energy, ensure high standards of living and satisfy UN Sustainable Development Goals (SDGs) for communities worldwide.
In delivering human-centred impact, she additionally encouraged the nuclear sector to humanise its own approach to innovation. Diversity and inclusion create tangible benefits for all, she summarised, and as a sector we must support our diversity of people.
Looking at sustainability, Sama commented: "The integration of the entire fuel cycle – the systems approach – is incredibly important and will help with fast deployment."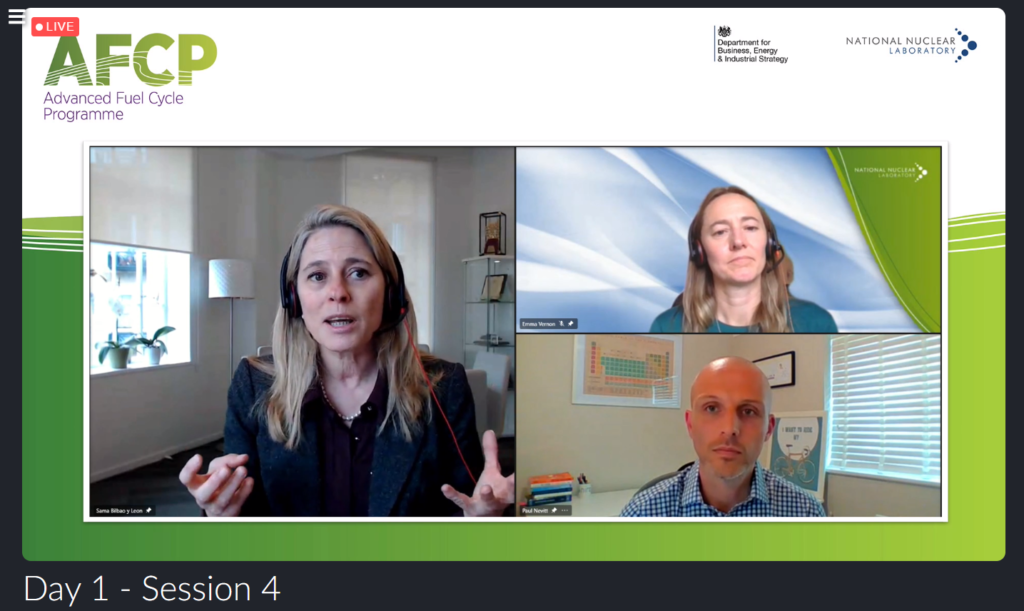 "We must support the energy needs of today with full decarbonisation of tomorrow." – Fiona Rayment (NNL)
Fiona Rayment, NNL's Chief Science and Technology Officer, opened day two of the QTM by expanding on this topic. To optimise any future reactor – and proactively manage their environmental and economic aspects – she commented it is essential to understand both the fuels required and their associated fuel cycles. In taking this "systems approach," AFCP is driving this while developing key capabilities and opportunities to see these technologies through to the future.
Fiona summarised: "For me, the teamwork that has come together on AFCP across science and engineering disciplines — bringing together supply chain, early career and experts — shows the best of what the UK has to offer."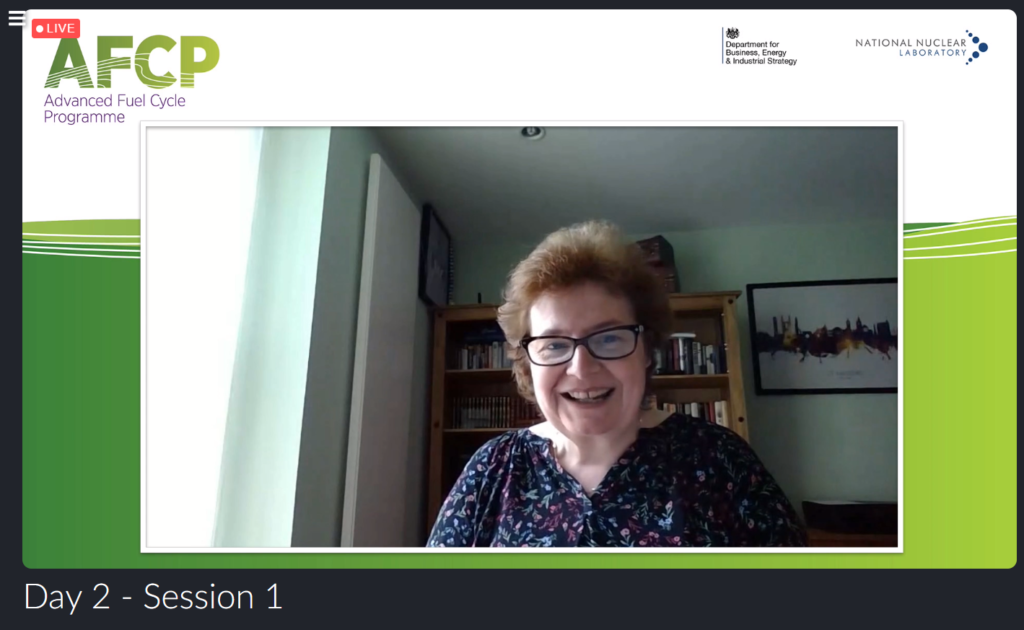 "Nuclear must be recognised and accepted for what it brings." – Christophe Xerri (IAEA)
Christophe Xerri, Director of the Division on Nuclear Fuel Cycle and Waste Technology at the International Atomic Energy Agency (IAEA), reviewed the international nuclear landscape on the course to Net Zero. Summarising recent developments in advanced nuclear technologies, he saw advanced fuel cycles as a key enabler worldwide. Through advanced fuel cycle innovation, we can proactively plan for future deployment while minimising environmental and economic impacts.
In the expanding role of nuclear for Net Zero, he stated: "We can provide an increase of energy for sustainable development while producing electricity with virtually no carbon."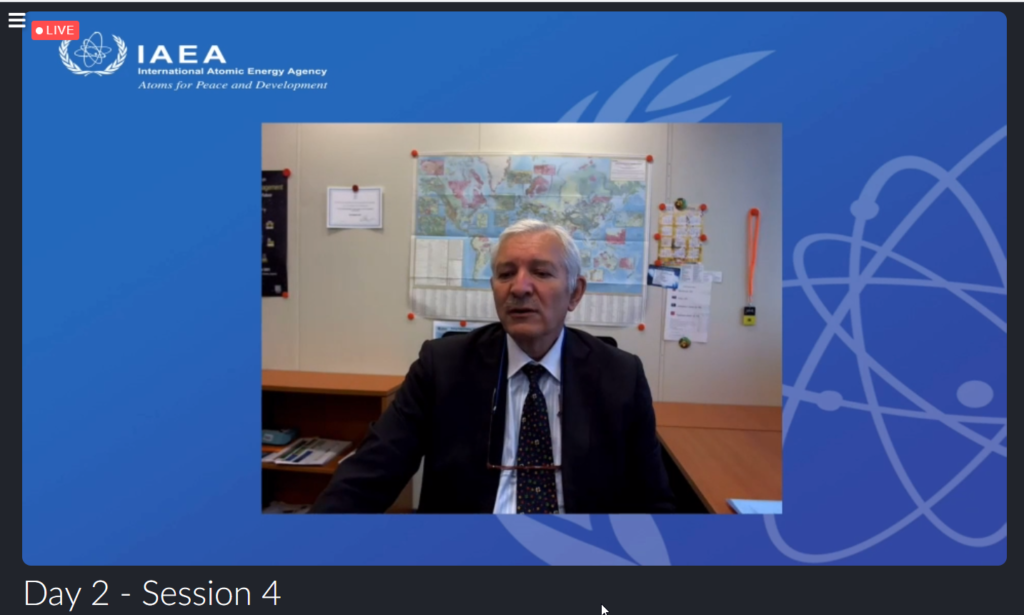 "AFCP is enabling a mobilisation of the entire sector toward a clean energy future." (Gareth Headdock, NNL)
Wrapping up the QTM, AFCP hosted a discussion panel of clean energy thought leaders. Reviewing opportunities and challenges for advanced fuel cycles to support advanced modular reactors for Net Zero, the panellists illustrated the QTM's standout themes.
Si Dilks, Head of Nuclear and Renewable Innovation at BEIS, set the scene by expressing the urgency of achieving Net Zero. With fewer than 1,500 weeks to go until we reach 2050, he stated that accelerating innovation for a clean energy future is "closer than we think."
Tatiana Ivanova, Head of Division of Nuclear Science at the Nuclear Energy Agency (NEA), reviewed the "constant need" for advanced fuel cycles to support both current and future energy needs. Looking ahead, she sees "extensive international collaboration and government support in the interconnected dimension" as key enablers of this ongoing innovation.
Gareth Headdock, NNL's Science and Technology & Government Programmes Director, agreed to Si's call for urgency. The sector has "a responsibility" to ensure that decisionmakers have the right data, technologies and skills available to make efficient and informed decisions. AFCP is doing just this, he argued, with advanced fuel cycles playing a key role in how the sector addresses each pillar of sustainability: environmental, economic, social and cultural.
David Eaves, Chief Technical Officer of Springfields Fuels Limited at Westinghouse, stated that a "joined-up approach" can help make this happen. Through AFCP and other collaborative programmes, he stated that bringing together the academic community, industry and government provides "great opportunity" for accelerating innovation and strengthening supply chains.
Stefano Monti, Head of the Nuclear Power Technology Development at IAEA, agreed that accelerating the development of different advanced nuclear technologies is "key" for reactors to play a role in decarbonisation. Underpinning this is unprecedented teamwork on a global scale: "Before competition is co-operation."
The discussion brought to life AFCP's key QTM ideas – innovation, integration and inclusion – to demonstrate the need for strategic thinking and teamwork for a Net Zero future.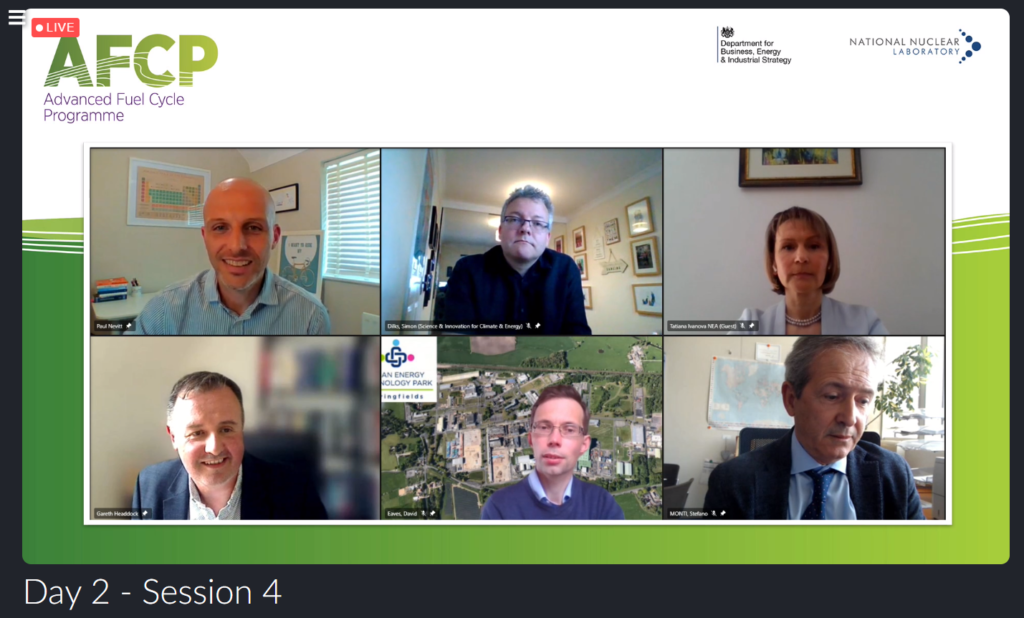 A future for AFCP's aligned ambitions
AFCP is proud to continue uniting its community each quarter. The event illuminated the enthusiasm and commitment of each AFCP member, while the reflections and insights from key speakers emphasised the power of inclusive, integrated advanced fuel cycle innovation for Net Zero.
Si Dilks closed the event on a suitably positive note: "Overall, I am constantly blown away by the level of commitment and community this programme brings. For us, this is a great success."
Thank you to the event speakers, panellists, attendees, hosts and organisers for making this digital collaboration possible!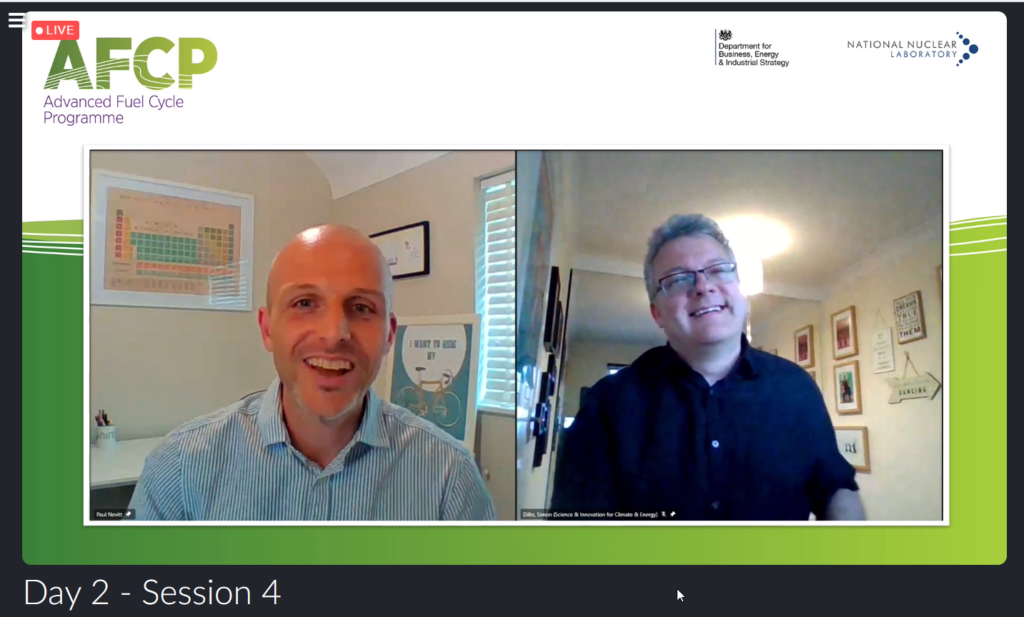 Access QTM content
All AFCP members can revisit QTM presentations, webinar recordings and more on the programme's innovation hub. Head to the Co-Creation Community to access all things QTM.
AFCP is part of the Department for Business, Energy and Industrial Strategy (BEIS) £505m Energy Innovation Programme.