AFCP announces challenge statements for Game Changers innovation competition
Following AFCP's recent call for innovation challenges, three fuel cycle concepts will proceed to collaborate with the Game Changers cross-sector network. This marks an exciting opportunity to expand AFCP's existing partnerships and continue innovating toward a Net Zero future. Submit your solution today!

Innovation and collaboration are central tenets of the Advanced Fuel Cycle Programme (AFCP) both in terms of delivering the nuclear fuel cycle of the future and in strengthening engagement across the sector. The technical programme is at the cutting edge of research and technology to support the UK's transition to Net Zero, which requires addressing future needs for the nuclear fuel cycle. Naturally there are a number of challenges that this presents.
The AFCP innovation team has partnered with Game Changers to deliver an open approach to solving these challenges. Following a call for ideas – which invited programme members to submit technical concepts that require new approaches, technologies and ways of thinking – AFCP has identified the top three challenges from across its technical themes. These challenges will be promoted across the Game Changer innovator network, enabling wider review and inviting novel approaches to solve them.  
With challenges selected, Game Changers is now welcoming solutions from the nuclear sector – and beyond! – to help AFCP resolve the three challenge statements below.
Shape sorting of coated particle fuel
Coated particle fuel theme | Dave Goddard, James Paul, James Gath & Guy Woodhouse
Coated particle fuels are a potential advanced fuel technology consisting of a fuel kernel encapsulated within multiple layers of ceramic, typically silicon carbide and pyrolytic carbon. AFCP's coated particle fuel team is seeking a novel solution to the quality assurance processes that separate misshapen kernel and coated fuel particles from those that are perfectly spherical. The UO2 kernels are typically 500 µm in diameter, and the coated fuel particles have an approximate diameter of 1 mm. The key attributes of the solution will be the accuracy of the separation process and the throughput.
Controlling oxygen and moisture in salt for pyro-processing
Pyro-processing theme | Matthew Goodall, Angela Jackson, Mike Harrison & Mike Edmondson
AFCP is developing a technology for the recycling and refining of nuclear fuels based on pyrochemical processing, or pyro-processing. It is imperative for the success of pyrochemical processing that oxygen and moisture levels in the system are tightly controlled. The ability to maintain low oxygen and moisture content during pyrochemical processing would be game-changing for both the choice of construction material for vessels and for process control.
The aim of this challenge is to identify and implement a novel or pre-existing method to control levels of oxygen and water during pyrochemical processing. Achieving this aim would reduce construction costs, improve operability and increase plant life expectancy, thereby reducing operator exposure to radiation and environmental impact.
Advanced NOx abatement of nuclear fuel recycling off-gas
Off-gas capture theme | Josh Turner, Brian Wilson & David Claxton
In the current generation of nuclear fuel recycling plants, there are two main methods to abate the nitrogen oxides (NOx) generated from operations:
Weak acid scrubbing to recover nitric acid
Caustic scrubbing, primarily reacting NO2 into NaNO2 and NaNO3
AFCP's off-gas capture team is seeking an alternative to wet scrubbing for the abatement of NOx from nuclear fuel recycling off-gases. This would target avoiding the need to use caustic scrubbing to polish the off-gas stream and remove remaining NOx.
Submit your solution
This is the first time AFCP has used the Game Changers style process to promote and advertise challenges to a wider, cross-sector audience. By being open on the requirements and constraints, the programme hopes to bring in divergent thinking from applicants that may not have engaged with the nuclear sector previously. AFCP's innovation team is more than happy to support applications from nuclear applicants and welcomes any cross-sector collaborative applications — we're open to ideas!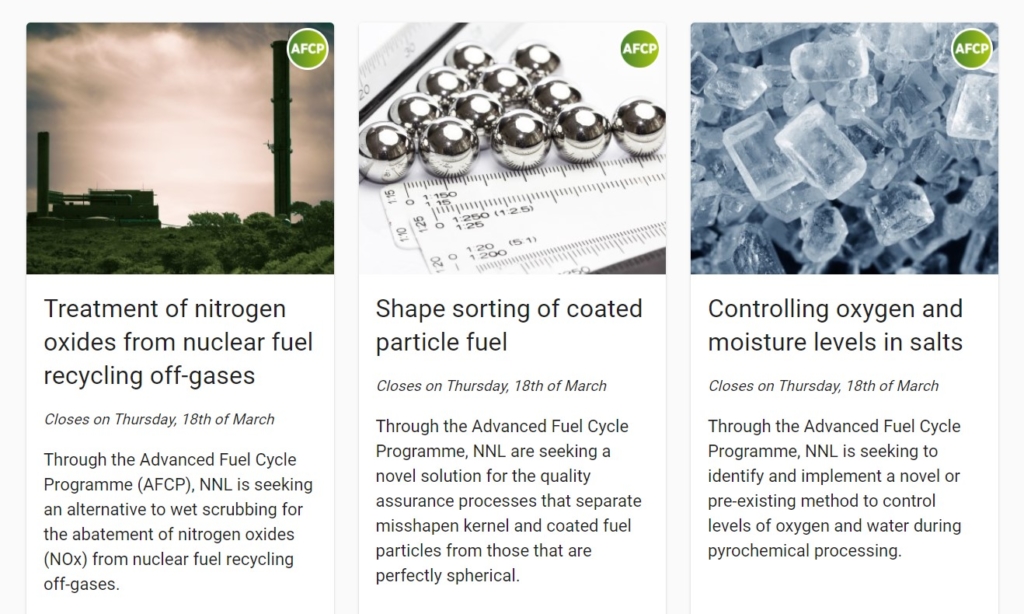 The full challenge statements are available to view on the Game Changers website and are now open for applications. Do you or your organisation have an idea, capability or process that could help resolve these challenges? The deadline to submit applications is 18 March.
Interested in learning more? Webinars for each of the challenges, presented by the challenge owners, are lined up for week commencing 1 March. These are a fantastic opportunity to discuss the challenge and ask any questions you may have about the applicability of your innovative idea.
To register for the upcoming webinars, visit the AFCP challenges on the Game Changers website. On the pages you can also submit your application to collaborate with the programme and resolve these advanced fuel cycle challenges.
If you have any questions about the AFCP Game Changers competition, please contact Tim Whitworth (tim.whitworth@uknnl.com).
The AFCP Game Changers application window closes 18 March 2021
AFCP is part of the Department for Business, Energy and Industrial Strategy's (BEIS) £505m Energy Innovation Programme.