Sustainability showcase: Universities unite for technical meeting
At a two-day virtual event, academic partners from AFCP's aqueous recycle and fast reactor fuel recycle projects shared ideas and presented technical updates. Part of AFCP's recycling and sustainability theme, these projects are driving environmentally conscious technologies to future-proof the deployment of advanced nuclear fuels.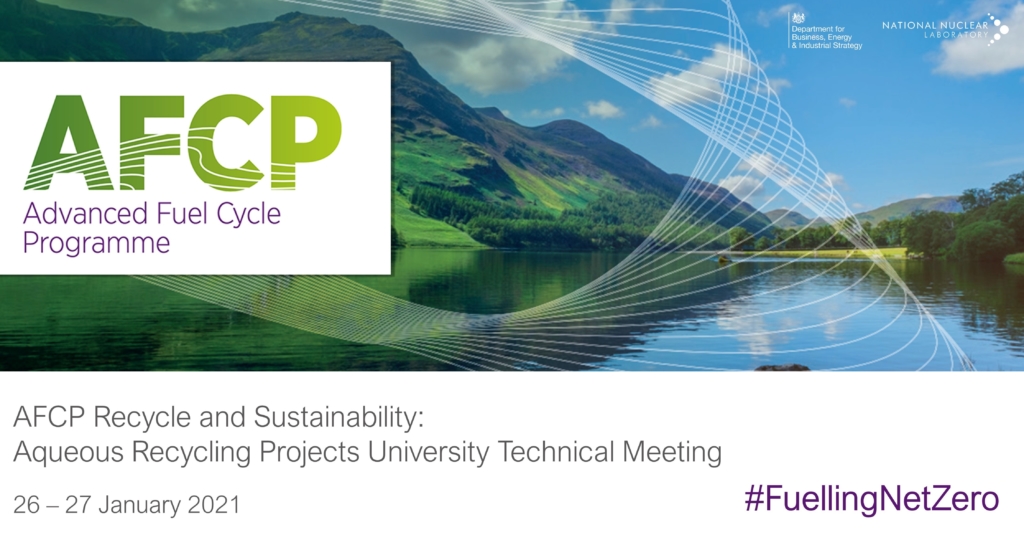 With cross-UK collaboration at the heart of AFCP, the power of digital networking continues to connect the programme in new ways. AFCP recently hosted a two-day virtual event for academic partners involved in its aqueous recycle and fast reactor fuel recycle projects. Bridging universities from these areas of work, the event enabled AFCP researchers to share ideas and present their technical achievements in depth.
The event was held 26-27 January to connect AFCP leads from the National Nuclear Laboratory (NNL) with academic partners funded by the programme, including PhDs and postdoctoral research associates (PDRAs). Also in attendance were a number of NNL-supported PhDs within the NNL's core science funded Advanced Recycling and Isotope Separations (ARIS) theme.
Working toward a sustainable future
As part of AFCP's recycling and sustainability theme, its aqueous recycle and fast reactor fuel recycle projects aim to minimise the environmental footprint of nuclear energy. This involves not only supporting the UK's transition to Net Zero by 2050, but also proactively considering the needs of future generations. Sustainable recycle options prolong the lifetime of advanced fuels, reduce the products generated and transform spent materials into new resources – thereby ensuring that nuclear energy can be a long-term contributor to the UK's clean energy mix. AFCP's projects further address sustainable development through targeted skill retention, key infrastructure expansion and supply chain innovation.
The aqueous recycle project is increasing the sustainability of nuclear energy through advancing cost-effective and compact recycle options. Compared to existing options, these technologies generate less waste, reduce proliferation risk and are more flexible to adapt to future scenarios. Meanwhile, AFCP's fast reactor fuel recycle project is leading innovative options for Generation IV fuel recycle. This involves working alongside AFCP's fast reactor fuel project to evaluate the economic and environmental impacts of closed fuel cycle options. AFCP's academic network is key to the success of both these projects, providing innovation as well as furthering our fundamental understanding of the processes under development at NNL.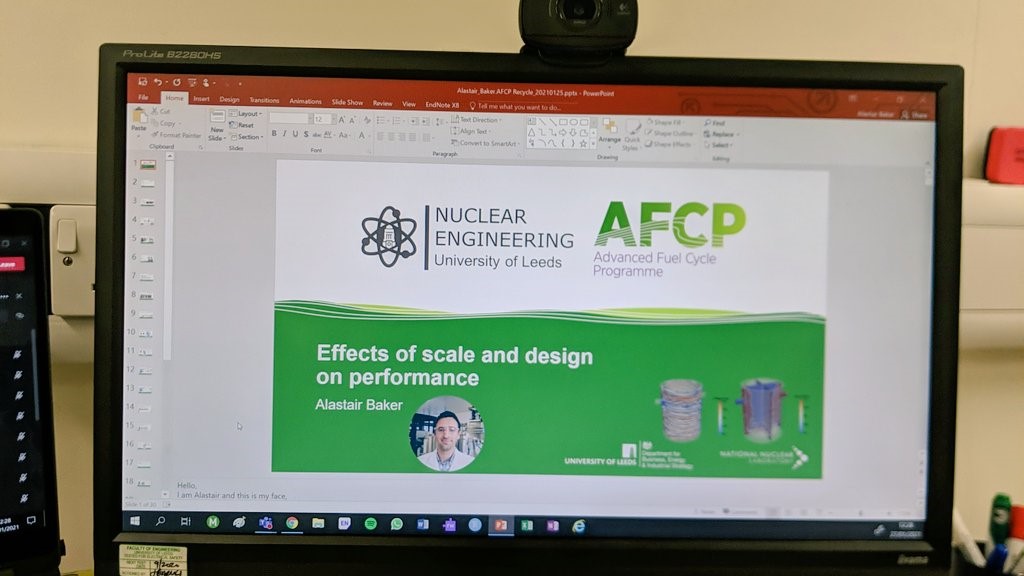 Technical deep dives across academia
With eighteen technical presentations from five universities, AFCP's virtual event showcased the depth and breadth of this academic work. Introducing the event were Gemma Mathers, NNL Programme Manager, and Prof Robin Taylor, NNL Technical Lead for AFCP's recycling and sustainability theme. The agenda included:
Alongside AFCP's technical presentations, PhDs supported under the NNL ARIS programme reviewed their work relating to actinide separations chemistry. ARIS is one of NNL's core science themes funded through the lab's earnings to reinvest and focuses on developing collaborative projects in advanced recycling, plutonium and transuranium element chemistry and isotope separations for applications in space and healthcare. The programme forms part of NNL's contribution to the Co-operation Agreement with Department for Business, Energy and Industrial Strategy (BEIS) that covers AFCP.
A virtual success
Despite the inability to meet in person, the event was a fantastic opportunity for AFCP's academic community to network. With lively and open debate in the sidebar – including exchange of experiences and data between researchers – the event sparked technical discussion and enabled PDRAs and PhDs to access learning from other AFCP partners.
This seminar really showcased the great progress made by our university partners in AFCP over the last 18 months and the breadth and quality of the work presented was truly excellent. Despite all the challenges they've faced in the last year, to hear their achievements and enthusiasm for the programme was quite inspiring to the NNL team.

Gemma Mathers, AFCP Programme Manager
Want to learn more? AFCP members can access recordings and presentations from this event on the Co-Creation Community.
AFCP is part of the Department for Business, Energy and Industrial Strategy (BEIS) £505m Energy Innovation Programme.